Matheson Chiropractic Clinic welcomes students from Georgian College and Lakehead University
Dr. Kevin Matheson is an experienced Chiropractor in Orillia, Ontario, practicing gentle chiropractic adjustments. As a Wellness Doctor, Dr. Kevin specializes in encouraging positive wellness lifestyle changes in patients after providing them with quick relief. After ensuring proper alignment of your spine and joints you will be given an exercise regime to strengthen problem areas in order to prevent future pain. Dr. Kevin Matheson provides private consultations in wellness to promote a healthy lifestyle that will minimize the effects of stress on the body.
Dr Kevin and his wife Lee Anne have worked together for 23 years and are thrilled to announce that they have been in Orillia for five years as of November 15, 2015. "We moved here for better air. Lee Anne`s asthma is 100% and we are loving being outdoors as much as we can." They are very pleased at the response of the people and patients of Orillia and say 'We have finally found our groove.'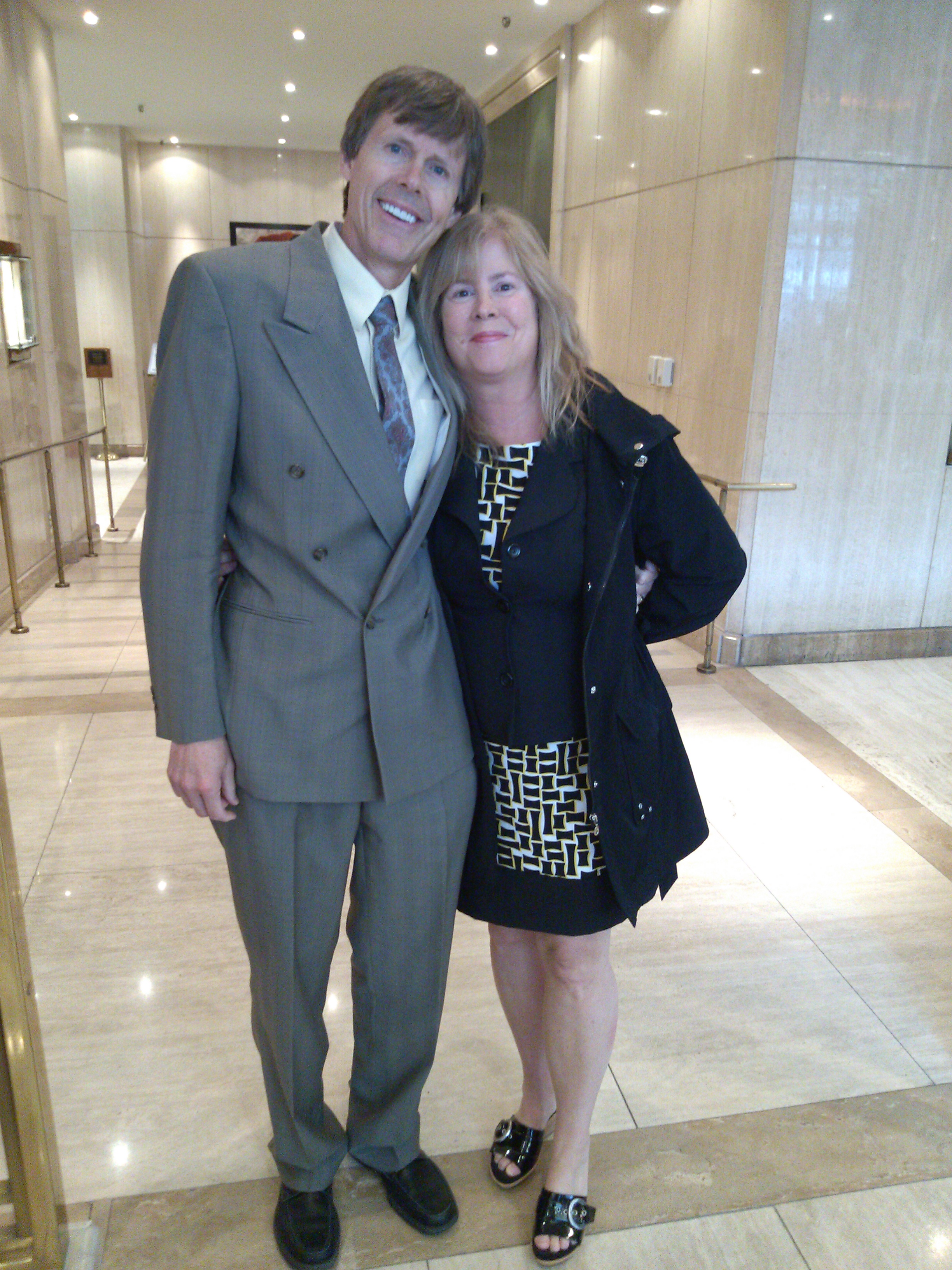 Dr. Kevin and his wife Lee Anne at their son Justin's Graduation from McGill University, June, 2015.
A person who has had back pain off and on for years and finally decides to see a Chiropractor.
If the problem is mechanical in nature, we often help rather quickly and end up looking like a miracle workers. They may say "I feel better." but when they say, " This is the best I have felt in years." that's what really makes us feel like we make a difference.
Another exciting situation happens when on routine examination.
Perhaps by x-ray we detect a condition which needs immediate medical attention. This has happened to us several times. The patient is not too happy at first when they are told they need to see their physician immediately, but is then very thankful later when the 'scare' is over.
Back pain, neck pain and headaches are the most common complaints and are often associated with stress. Dr Matheson performs chiropractic adjustments on all joints of the body, helping with conditions such as:
Shoulder Pain
Hand Pain
Elbow Pain
Tennis Elbow
Hip Pain
Knee Pain
Foot Pain
Carpel Tunnel Syndrome
As a Wellness Doctor, Dr. Kevin Matheson encourages a positive wellness lifestyle after quick relief from their present complaint. This healthy lifestyle change helps minimize the affects of stress on the body.
The goal is to help patients with their complaints of back pain, neck pain and joint pain quickly. After some relief patients are then encouraged to stretch gently and gradually intensify exercise.
Dr. Kevin Matheson shares his knowledge on improving your health immediately. These free lectures from fifteen minutes to an hour with questions & answers covers the topics of:
General Chiropractic, Stress and Wellness.
Ergonomics – Becoming aware of and learning to avoid workplace injuries.
Best Foot Forward – Learning how to avoid common falls, particularly around the house.
Some extended health insurance plans cover all or part of your Chiropractic care. Check with your plan today. We are now able to bill directly to most extended health care companies.
To save you time when you visit our office, please fill out our Chiropractic Admitting Form below prior to coming in for your appointment. The form can either be filled out electronically and sent via email, or printed and filled out.
Extended Health Insurance
We bill directly to the following:
Cowan
Desjardins Insurance
Great-West Life
Industrial Alliance
Johnson Inc.
Manulife Financial
Maximum Benefit or Johnston Group
Standard Life
Sun Life Financial
Greenshields
Rwam for Lakehead University students
Bluecross
Adults $75
Seniors: $75
Students: $45
Includes first adjustment.
30-45 mins.
Adults: $40
Seniors: $35
Students: $27
Dr Matheson discusses your answers on his Unique Wellness Questionnaire. After scheduling this appointment, we will email you a copy of the questionnaire: $60
Betty Wright, R.N.
Consultation Exam: $30
Subsequent treatment: $25
I would like to tell all the people in Orillia that they are lucky, lucky people. They have now what Sarnia is missing. My health has greatly improved because of Dr Kevin and all his advice and help. Dr Kevin keep us informed on the bus trip coming to Orillia…ha ha.

K.B.
I would like to share with you that when I went to your office in Sarnia on September 2, 2010 with my extreme back pain I really had no idea what to expect. I could not even lift my foot to put on my socks I was in so much pain. Getting in and out of bed or the car was very difficult and painful as was just sitting in my office chair. However, with your advice, exercise suggestions and adjustments within two weeks or so I was feeling so much better. To this date I have had no further problems. Thank you for your help it was truly appreciated in all respects.

D.A.
I want to thank you for your excellent care these past years. All of your patients will miss you. It is great that you are able to follow your dreams. I wish you great success in your future endeavors. I know you will have great success with you both leading the way.

G.M.
Thank you! Thank you! Thank you! For the years of caring and treatments. You both will be missed but as you get started in your new Phase of Life, I wish you all the best in your new Journey. Orillia will be very fortunate to receive both of you into their Community.

S.M.
I was in a car accident and I remember the day I walked into your clinic and the Doctor promised he would make me better, maybe not the same as before the accident, but able to work again. I did not believe him. And here I am, driving truck again to the East Coast and back and even able to do some welding which was never supposed to happen again. I am grateful, I have my life back. Dr. Kevin came through on his promise, and more!

J.T.
Thank-you for all of your hard work Dr. Kevin. I have experience Chiropractic care my whole life, but never to the degree and care that you've shown. You even managed to change my wife from a skeptic into an enthusiast! Your knowledge of wellness and overall good lifestyle choices has made a difference in our lives and we are forever grateful.

C&N
The day I walked into Kevin's office I was in so much pain and doubled over. The pain in my back was so great that Percocet and Tylenol 3's were not helping. Kevin asked what I expected by coming to his office, I told him "to get off the pain pills". After a week of treatment everyday the pain and the pills are now gone. I still visit once a week and soon twice per week. I now suggest people visit Kevin to be pain free.

D.B.
I was experiencing a lot of lower back pain and tension in my neck that massage therapy did not seem quite enough. I heard Dr. Matheson speak at a business meeting and thought I would give Chiropractic Therapy a try. After my first visit I felt very comfortable with the therapy and have not has a headache since. I can easily bend over and not have pain and don't need help to stand up again. My daughter is now a patient for Dr. Matheson, she is only 10 yrs old and she has also seen results.

M.B.