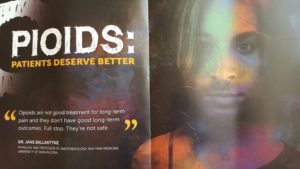 Far too often we hear about the hazards of opioid misuse and dependence. But who does this really affect? Is it just the recreational users trying to get high? NO! Opioids are powerful drugs and are meant mainly for terminal patients with cancer and unremitting pain. Commonly, we see Oxycontin or Fentanyl being prescribed for chronic back pain. These are not recommended for mechanical back pain (the most common type of back condition) because they are not safe and no more effective than many safer NSAIDS (non-steroidal anti-inflammatory drugs) such as Naproxyn or Voltaren. The real problem is they are easy to get hooked on and users tend to take more than they need with the ever increasing chance of taking too much … and dying of an overdose. 2,500 Canadians died of an opioid overdose last year. Besides overdose, there are a host of other problems with long-term use including sleep disorders, increased risk of cardiovascular disorders, as well as adverse psychomotor, endocrine, gastrointestinal, and immunological effects.
For back pain, the 2017 Canadian Guideline for Opioids for Chronic Non-Cancer Pain, developed by the Michael G. DeGroote National Pain Centre at McMaster University, recommends the use of non-opioid medications and non-pharmacological, conservative therapy, rather than a trial of opioids. Chiropractic, along with physiotherapy, massage therapy, stress reduction and a host of other conservative treatments, should be tried first. 
Chiropractic is the obvious choice for back pain sufferers for many reasons. Patients can get an appointment quickly at a Chiropractor's office, treatment begins much sooner than other types of care, Chiropractors encourage a back to normal function as soon as possible which all the studies show to be the best approach, and results are in: Chiropractic care is as effective as anything else with virtually no harmful side-effects.